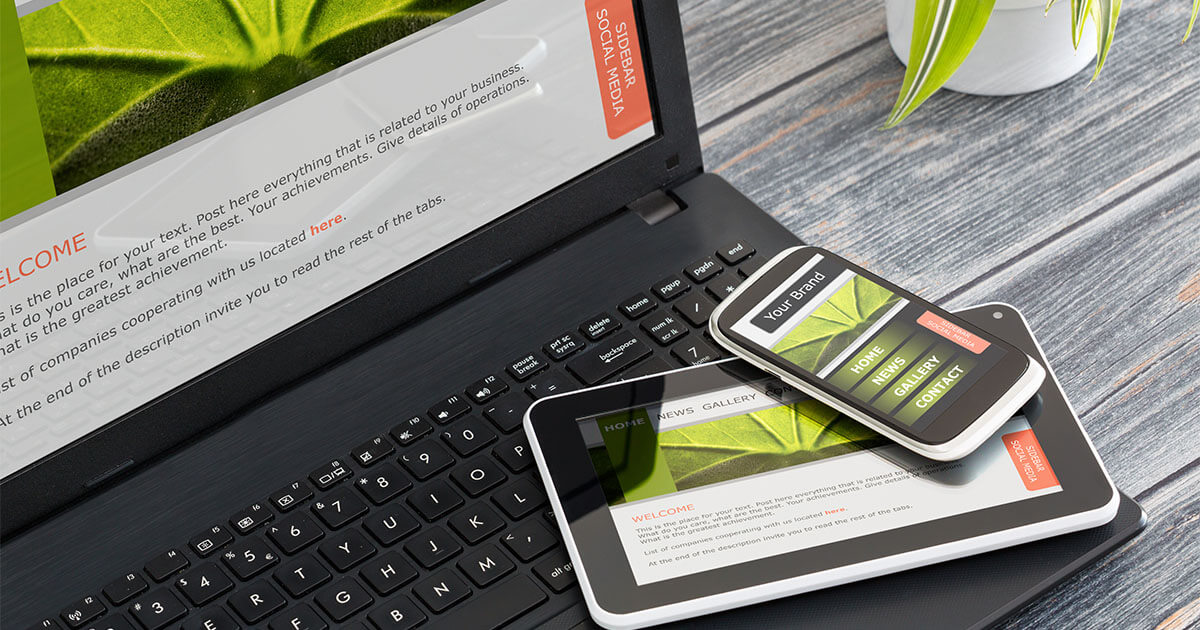 The best WordPress mobile plugins
With the arrival of the mobile first approach to web design, responsive design is becoming more and more important. Luckily, special mobile plugins for WordPress make it possible for you to optimize your site for mobile devices is just a few steps. We take a look at some of the best WordPress mobile plugins.
$1 Domain Names
Register great TLDs for less than $1 for the first year.
Why wait? Grab your favorite domain name today!
Matching email
SSL certificate
24/7/365 support
Responsive on demand – with a WordPress mobile plugin
Over 43% of all websites are built with WordPress, and many of them have seen better days — at least when it comes to technological advances. You probably know sites like this: The font is way too small, the menu can only be navigated with two-finger zoom, and images spill out of the viewport of your smartphone. The problem is that completely redesigning a website with a responsive theme requires a lot of time and money.
To keep up with the demand created by mobile first, there are a number of mobile-friendly WordPress plugins for making your website responsive without changing the theme. And even better: This kind of website optimization makes WordPress faster and improves your mobile SEO. Otherwise, if you're creating a brand new WordPress site, you can choose a theme with responsive design from the start.
To see what's at stake, take a look at the following example of a test site in WordPress version 5.9 with the theme Twenty Eleven made by WordPress.org.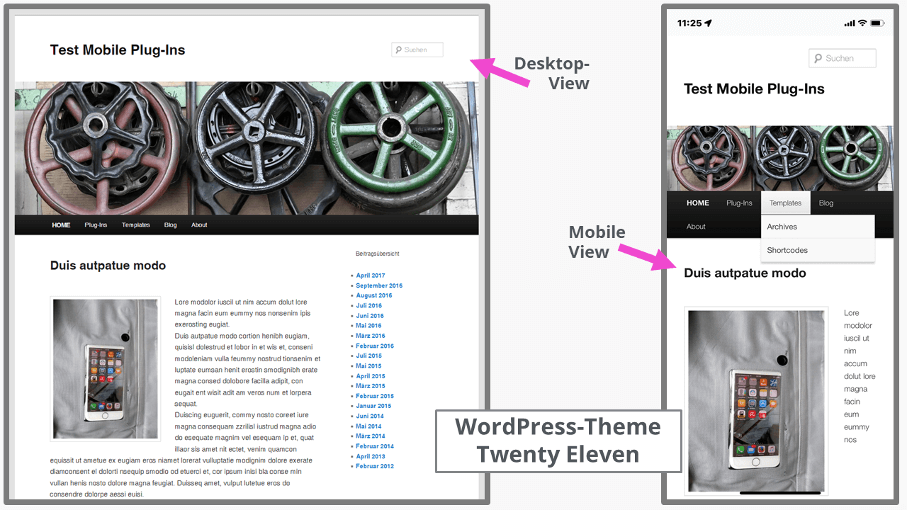 This theme can hardly be called responsive. The images are scaled for mobile, but the text isn't and, most importantly, neither is the menu. These problems are easily solved with a mobile plugin for WordPress. We tested some plugins to see what kind of results they produced when viewing a WordPress website on a smartphone. Below we show you the results and discuss the various settings each plugin offers.
Tip
Looking for safe and convenient WordPress hosting? Take a look at the various plans offered by IONOS.
WordPress mobile plugins: Overview
| Plugin | Pros | Cons | Free version | Pro version* |
| --- | --- | --- | --- | --- |
| WP Mobile Menu | Very easy to use | Some features only on pro version | ✔ | $$$ |
| Max Mega Menu | Extensive design options for mobile | Some HTML and CSS knowledge required | ✔ | $ |
| WPtouch | Extensive settings via WYSIWYG with customizer | Expensive pro version | ✔ | $$$$ |
| AMP for WP | Best results out of all four plugins | Wide range of features can be confusing | ✔ | $$** |
*Price rating based on the premium version for one website. **As a package with numerous extras.
WP Mobile Menu – Quick and easy
WP Mobile Menu is an easy-to-use plugin that was updated with the release of WordPress 5.9.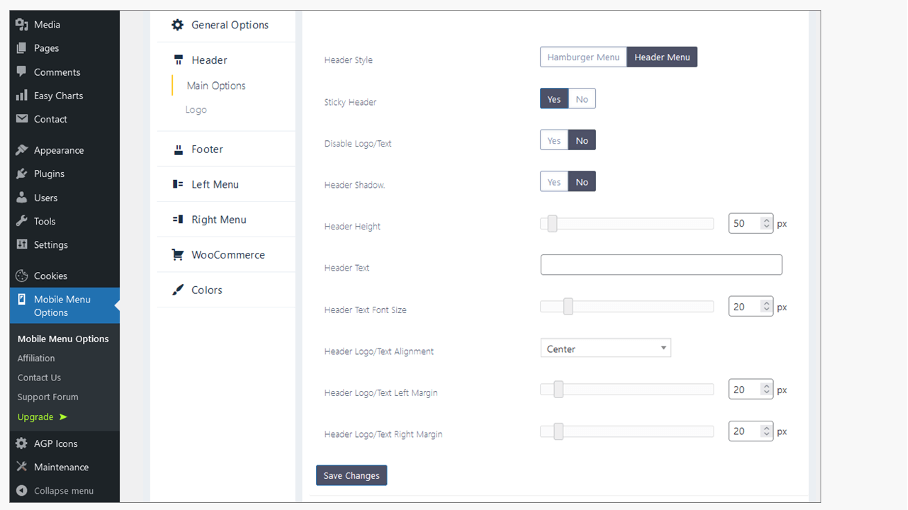 This plugin adds a menu to the header of your WordPress site, which contains the title of your website and the hamburger menu button. The existing menu from the theme Twenty Eleven is also still displayed. WP Mobile Menu supports two further sub-menus. The new menu is sticky, meaning that it stays visible at the top of the page even when you scroll. When clicked on, the menu expands over the content of the site.
The seven menu items in the admin interface of WP Mobile Menu each contain possibilities for customization, including:
Inserting individualized header text and/or logos instead of the automatically inserted website title
Customizable overlay
Inserting a background image for the menu
Turning off the display of certain elements when the mobile menu is active
Use of Google Fonts
Individualized menu design, e.g. choosing from five different designs for the hamburger button
Two display modes for the menu: over the content or pushing out the content
In the paid version of the plugin, you can deactivate the menu for certain pages or choose different menu looks for different pages. It also comes with footer menus, additional display modes for the menu, and access to 2,000 icons from various libraries.
Max Mega Menu – Maximum design
This WordPress mobile plugins comes with a responsive, user-friendly admin interface.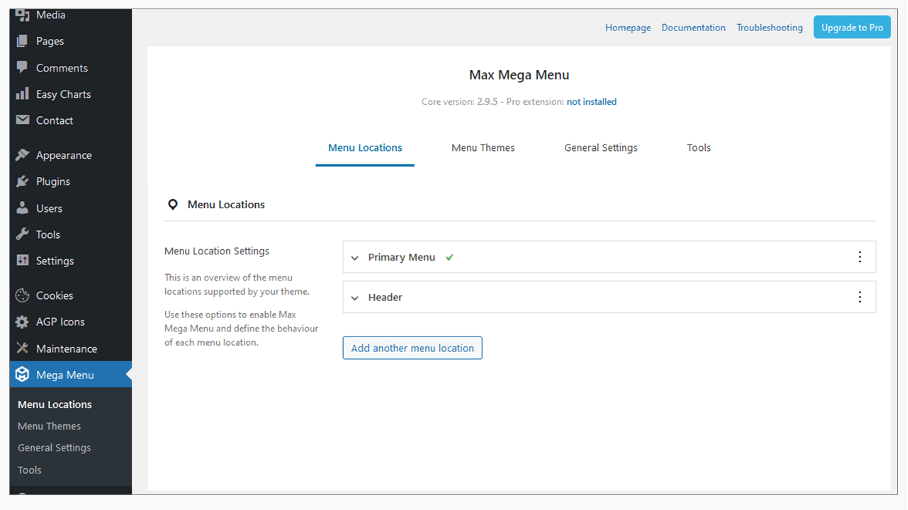 The Max Mega Menu admin panel comes with the following features in the free version:
Create horizontal mega menu elements with up to three levels
Individual settings for each menu level, including the navigation arrow
Arrange elements with drag and drop (partially)
Save menu designs as individual themes
Customized styling with CSS/SCSS
Export and import of your own menu themes in JSON or PHP
Easy access to documentation
Some features require HTML or CSS knowledge, e.g. if you want to properly use the "z-index".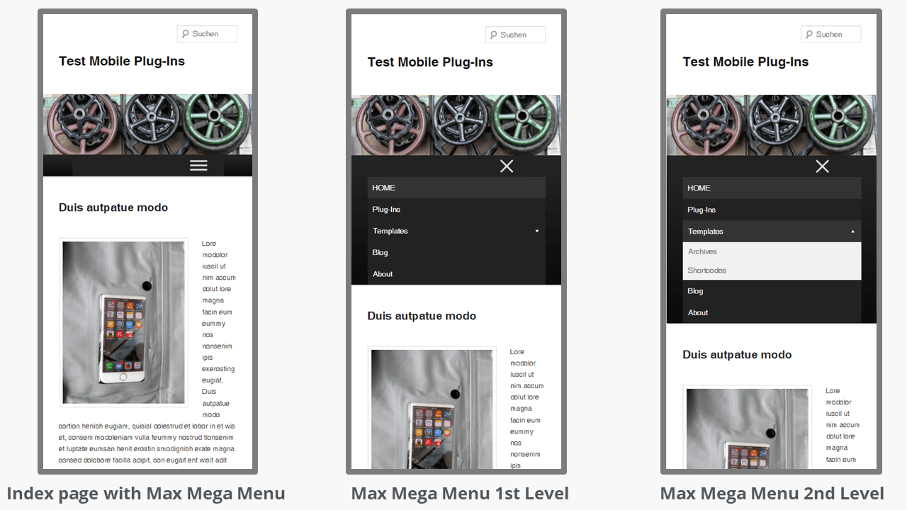 The pro version comes with sticky, tabbed, accordion, and vertical menus, 600 menu icons, 200 Google Fonts, menu badges for increased visibility, and support for WooCommerce and Easy Digital Downloads.
WPtouch – Settings galore
The WordPress mobile plugins WPtouch adds a lightweight mobile theme to your existing site. It's user friendly, and the elements that are only available in the pro version are specially marked.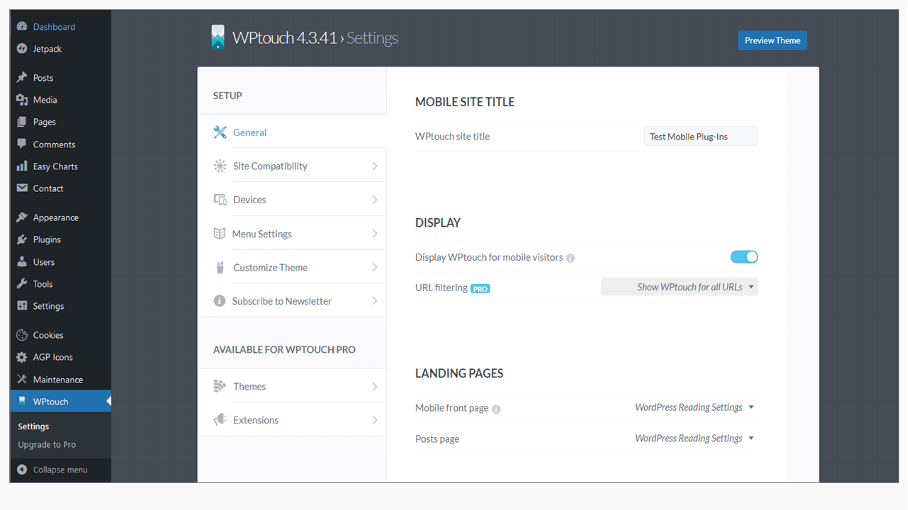 Of all the WordPress mobile plugins tested here, this one makes the most noticeable visual changes to the site. The biggest difference from the other plugins we've described is the use of the customizer to adapt the mobile design. When you click "Change to mobile theme", you'll be able to see and adjust the mobile version of the site. The developers based their work on Google's recommendations for efficient user experience and created a very lightweight plugin. The new mobile site has a clear structure and the text blocks are much more readable.
The free version of the plugin comes with the following features:
Choose from up to six devices/browsers for the mobile site to be optimized for
Adapt the mobile version in the customizer
Menu can be activated as a drop down or as pushing the content out of the frame
Customize the position of the hamburger button
Choose your own colors for the background, header, menu, links, and headings
Admin panel available in 23 languages
Does not affect the original theme when shown on desktop or other WordPress settings
The pro version is rather expensive and can be purchased as a one-year subscription. It comes with premium support, additional mobile themes, ad integration, the "related posts" feature, and the use of jQuery.
Tip
Looking for a simple, professional solution for SEO? Take a look at IONOS's rankingCoach. It supports all the most important CMS and e-commerce systems and helps you get more visitors to your site.
AMP for WP – Greetings from Google
AMP for WP is a project led by Google. This WordPress mobile plugin implements Google's guidelines for better search engine visibility and higher speeds for WordPress sites. This supposedly helps boost the website's ranking in Google search results.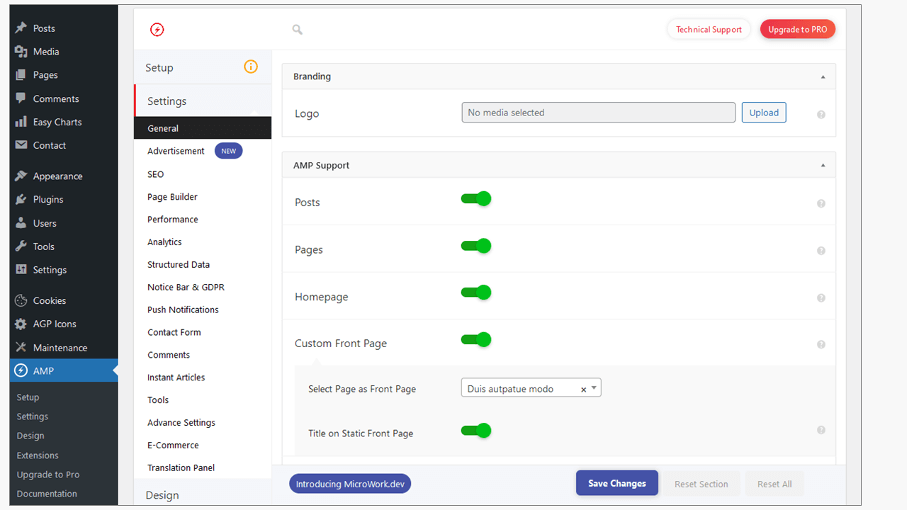 The existing website is improved with a hamburger button in the header and more readable text blocks. When the default settings are on, the site runs noticeable faster, the menu takes up the whole screen when activated, and sub-menus open and close perfectly. The search bar is also integrated into the menu overlay.
Configuration is divided into sections for beginners and experts and leads you through self-explanatory menu items in the admin panel. The result is equally impressive. There's also extensive online documentation.
This responsive plugin for WordPress comes with an immense range of features for making your site mobile friendly. The free version comes with four themes and over 300 possible configurations, according to the developers. Under "Extensions" in the admin panel, you can purchase additional features. Free features include:
Support for page builders
Automatic removal of unused CSS
Support for Google Fonts, even for local use
Compatibility with various SEO tools
Support for Google Tag Manager, Adsense (AMP-AD), Analytics Support, and additional tools for analysis
Possible to have different content for mobile and desktop
"Related posts" feature
Improved adaptation of images
Embed YouTube videos, Vimeo, Twitter, Instagram, and Facebook videos
Integrate twelve new social media channels
Set up the AMP version as a homepage and/or priority page
Conforms with GDPR
Paid features include:
Certain forms of ad admin
Support for special contact forms
Email opt in for newsletters
Supports multiple languages with WPML, Polylang, and WeGlot
Connect with e-commerce
Templates for call-to-action elements
Over 45 additional features from the AMP world
By the way: AMP for WP is different from the open-source project AMP. The latter has taken up the task of building websites with significantly less code in order to improve their speed. You can read more about it in our guide on AMP plugins for WordPress. The WordPress mobile plugin AMP for WP partially takes up these tasks. Additionally, it takes into account WordPress SEO tips, coming from Google itself.
Summary
The WordPress mobile plugins we've described here allow you to make an existing website more mobile friendly by giving it a responsive design for different devices. By testing a plugin with the free version, you can get an idea of whether it suits your purposes. Then you can decide whether it makes sense for you to invest in the pro version. It's always a good idea to look at the results on your own smartphone or tablet, as the preview you're shown in the browser usually differs a bit from real-life results.
Tip
If you're setting up your website in WordPress, check out some of the other IONOS guides on WordPress plugins. Plugins can be an affordable way to extend the features on your website:
WordPress review plugins
WordPress SEO plugins
WordPress contact form plugins
WordPress forum plugins
WordPress chat plugins
WordPress cookie plugins
WordPress instagram plugins
WordPress newsletter plugins
WordPress gallery plugins
WordPress backup plugins
Plug-ins
WordPress Plug-ins
Responsive
WordPress